Inspiring change through
technology
We are passionate entrepreneurs and engineers who have spent the past ten years building a modern software development house for established businesses and start-ups. We work shoulder-to-shoulder with our customers from ideation to implementation – and everything else in between.
Our vision
Akeo is built on a foundation of curious exploration of how technology can be used to create value. We wish to inspire and show how you can embrace the possibilities that come with:
New technologies
Modern platforms and systems
Improved architecture
User-friendly solutions
Through innovation-led research, industry knowledge and experience, our mission is to help you find solutions to your problems and pair them with a sustainable business model. Partnering with Akeo help you understand what solutions and services can be the best choice to achieve your goals. We also look-out for opportunities that can be developed as a business advantage. Once developed, we match these opportunities with interesting partners or try to remodel them for your business.
Akeo has been awarded with the title of "Gazelle Business" for three consecutive years. The award is given to Norwegian companies with proven and sustainable economic growth.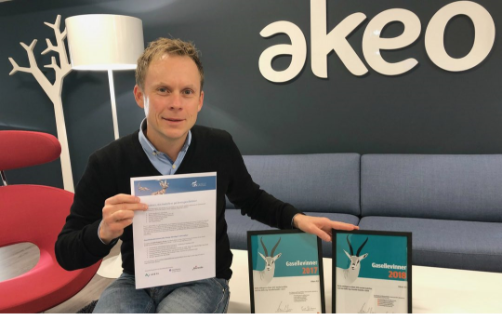 Akeo has been awarded with the title of "Gazelle Business" for three consecutive years. The award is given to Norwegian companies with proven and sustainable economic growth.
Where it all began
It all started in Norway in 2009, when Espen Moen Kvelland, a young entrepreneur with a bag full of ideas founded Akeo. In the journey, Espen met Manish Gupta, an ambitious Computer Engineer with aspirations, and the two of them partnered up. The rest, as you say, is history.
"Akeo is a global family of innovative and industry-focused IT minds."
Today, Akeo Group holds its presence in two continents with the management and client-handling team established in Skien, Norway and the development and marketing team in Jaipur, India.
The Akeo team has a unique aptitude for delivering high quality and balanced solutions. You will be sure to receive a product that is not only technologically sound but also commercially appealing to the end users.
Ayoola Brimmo
Director, Cycled Technologies AS
We have developed a great partnership with Akeo and their dedication to our product Miris-Exact is remarkable. We appreciate their approach to technology, attention to detail and creative ways to bring a new product to life.
Geir Nystrand
Miris AS
Creating a workspace powered by people
Committed | Energetic | Passionate
Celebrating Akeo's 8 glorious years
Akeo celebrated its eight glorious years in business recently. Both Norway and the Indian team graced the event. Our very own Chief Innovation Officer, Ashish Gupta got the party rolling and shared his thoughts on how Akeo is full of possibilities and also can turn those possibilities into opportunities.
The event was also a proud moment for us to celebrate everyone's successes, excellent team deliveries, and projects which are changing lives in the real world. We always knew that our Chief Technical Officer, Manish Gupta is a great story-teller and we were proved right yet again when he narrated a fantastic story about how with teamwork even tricky tasks can be completed efficiently.
Amidst the fun, frolic, and dance, the team members also performed a fun skit which very-well depicted the #AkeoLife. Also, everyone was eagerly waiting to know the winners of #BlockchainPitchDeck, who were announced by the jury the same evening.
The party couldn't have been complete without a few golden words from our Founder, Espen Moen Kvelland. Espen shared his plan and vision for Akeo and how it has grown from a baby to being a teenager who is exploring technology with explosive enthusiasm.
The evening not only brought us a lot closer as a family but also pumped us all, to achieve more heights and look forward to the next Annual Party with two-fold enthusiasm!
Akeo Blockchain Pitch Deck – Environmental issues solved with blockchain
We, at Akeo, always try to explore new ways to learn and enhance our capabilities. This time, it was highly inspiring and challenging at the same time as we organized an event 'Blockchain Pitch Deck'. It was a company-wide event to pitch business ideas based on blockchain.
The challenge was to present a unique idea that is technically viable, scalable, and solves an environment-related issue. Five teams registered to present their business plan to the jury. The jury panel included our very own Espen Moen Kvelland (Founder), Tormod Lindøe (CEO) and Manish Gupta (CTO). The event began with a speech by Espen Moen Kvelland, inspiring us to forget all our worries and perform with confidence. Being charged up, every team presented their business plans with great passion. The presentations were followed by a quick round of Q/As.
Every project had its own unique points and a well-thought-out way to solve environmental challenges. Some wanted to solve issues related to the emission of climate gasses, solar energy, and paper-based voting; while some wanted to build a blockchain-based platform to cope with air pollution and natural disasters. Two blockchain-based solutions were awarded as winners – Air Ledger and Akeo Greentech for Professionals.
It was a great event for us where we experienced how an idea is conceived, brought to the market and of course, pitched to investors! We are already looking forward to more such opportunities to learn and grow together.