We have all seen the excitement across industries to adopt blockchain. Moreover, there is little doubt in the mind of enterprises that the distributed ledger technology can transform internal systems as well as processes to pave the way for the development of new efficiencies. The technology has already begun to reduce operational costs, shorten the settlement time as well as streamlined online payments across industries.
The technology no doubt has potential and the world market has started to capture it all. The technology has started to move far from its nascent stage and a lot of pilot projects which promised to revolutionise industries haven taken off. If not a clear recipe for success related to blockchain projects has emerged, there have been results, projects making a mark like Everledger, Loyyal, Propy already seeing returns on their investments. The areas where blockchain solutions have most use cases are finance and banking, supply chain, healthcare, real-estate, retail. Broader application of the technology has been in identity and Know Your Customer (KYC), IoT and smart cities, as well as loyalty and rewards.
Wanna catch the pulse of blockchain? Take a look at the insights we have in store for you!

As a startup before you start thinking of investing in blockchain technology, here are three vital insights on blockchain that you need to understand:
a) Blockchain isn't necessarily a medium for generating commercial value.
b) The technology's short-term value can be gained from cost-reduction; the long-term business transformation will happen a little later.
c) Blockchain will scale three-to-five-years from now; the IT industry is still exploring its potential, once that is determined, the scaling is said to occur automatically.

Post learning these vital insights, we are sure that you are ready to answer the questions so, here they are:
Answer these before adopting blockchain for startup
Can blockchain become one of your major strengths which in the longer run will predominantly contribute to your success?
When we talk about projects like Wakandi, the business owners were sure that blockchain or distributed ledger technology is the key to their success.

Can you identify a niche feature, or format of your solution which is going to benefit the most with the blockchain technology?

Would adopting blockchain for the product gain you a larger share in the industry?

If the product offering eventually has traction in the market, would it be possible to scale it with blockchain?
Post the launch when your startup solution gains popularity in the market think about scaling the product beforehand.
Gartner thoughts on blockchain adoption across industries
Research and advisory firm Gartner comments that blockchain has been one of the top ten strategic technologies in the year 2020. The report, 'Top 10 Strategic Technology Trends for 2020', says that enterprises have started to evaluate distributed ledger technologies (DLT), if they haven't yet adopted it, considering the technology's potential for disruption and profit generation.
According to the research firm, what makes blockchain attractive as technology for any startup is that it offers the possibility to reshape industries (paving way for startup to enter the industry). The technology does so by offering trust, transparency and as well as adding value exchange between industries. That's not all, the technology reduces transaction costs, settlement time (international especially) and overall improving cash-flow for businesses.
Gartner has published several reports discussing blockchain adoption and future prospects. A few months ago, in its blockchain hype cycle report, Gartner said about 60% of CIOs across sectors expect some adoption of blockchain in the next three years.
It previously discussed the problem of blockchain interoperability and a lack of standards. Citing this, Gartner sees blockchain deployment in financial services at least three years away. But banking is still the most mature sector in terms of adoption.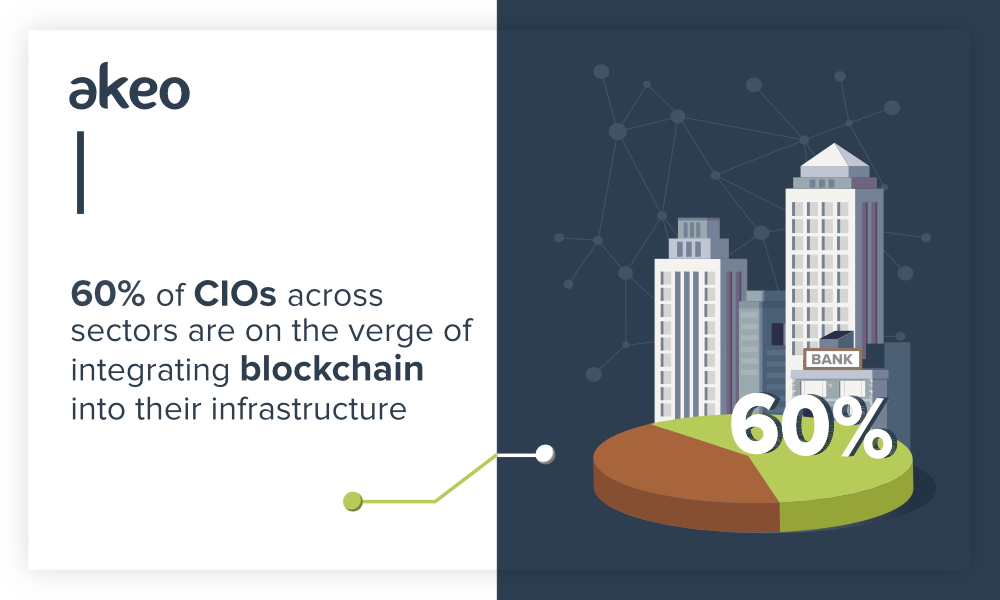 The year 2023 is pegged as an important year for blockchain. Moving through different phases of development, Gartner envisages the technology will unlock value in 2023. Until then, the industry will see several changes with advancements in technology and a lot of trial and error.
Of course, no single technology/strategy can deliver an advantage forever. In order to thrive, innovation with technology is essential! If you can answer "yes" to aforementioned questions, then you too may have found a way to adopt the blockchain technology and to develop a product with it. If there is a little speckle of doubt or you don't know how to answer these questions, why don't you allow us to help out.