African ecosystem is currently witnessing a rapid expansion and institutional and venture capitalists investments are hitting new milestones each day. More and more local and international organizations are fuelling startups ideas, validating proof of concepts, and scaling businesses to boost the economy.
The venture capital scene in Africa has consistently grown, with an influx of capital from local and international investors reaching unprecedented heights in recent years. To understand how much growth has occurred, African startups raised a meagre $400 million in 2015 compared to the $5.2B that came into the continent in 2021, according to Africa-focused fund Partech Africa.
640 African tech start-ups raised a massive amount of $5.2B across 681 equity rounds during last year. This 3.6x YoY growth makes Africa tech VC the world's fastest-growing ecosystem. If one has a look at the Q1 of 2022 figures, there were 69 deals which were finalized registering a growth of 44% from Q4 of 2021.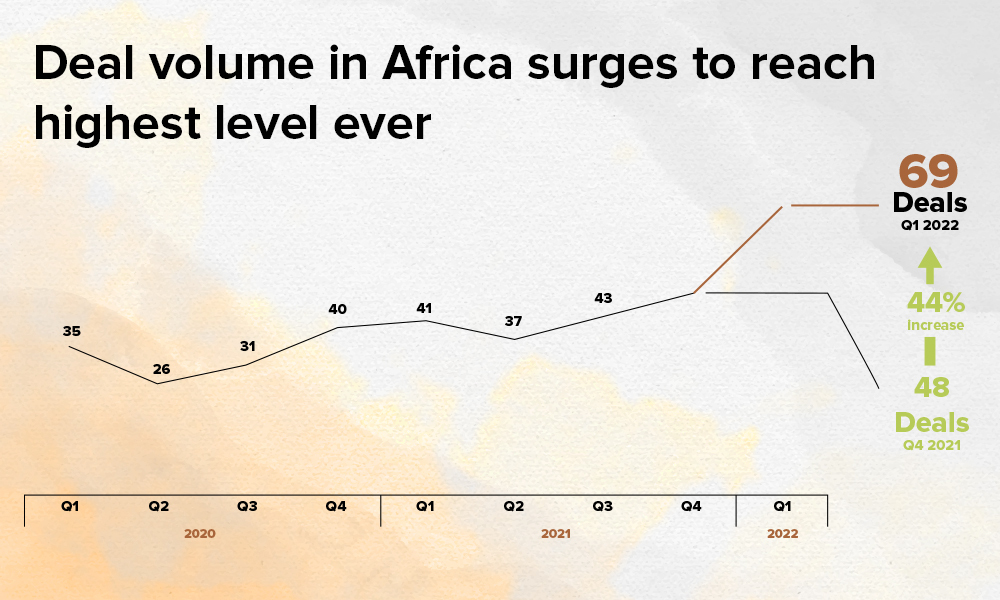 Nigeria had the highest level of VC investment in Africa last year, surpassing South Africa. Most of Africa's VC deals were in early-stage funding rounds, but late-stage funding also jumped significantly in 2021, including a nearly fortyfold increase in money raised during Series C fundraising efforts.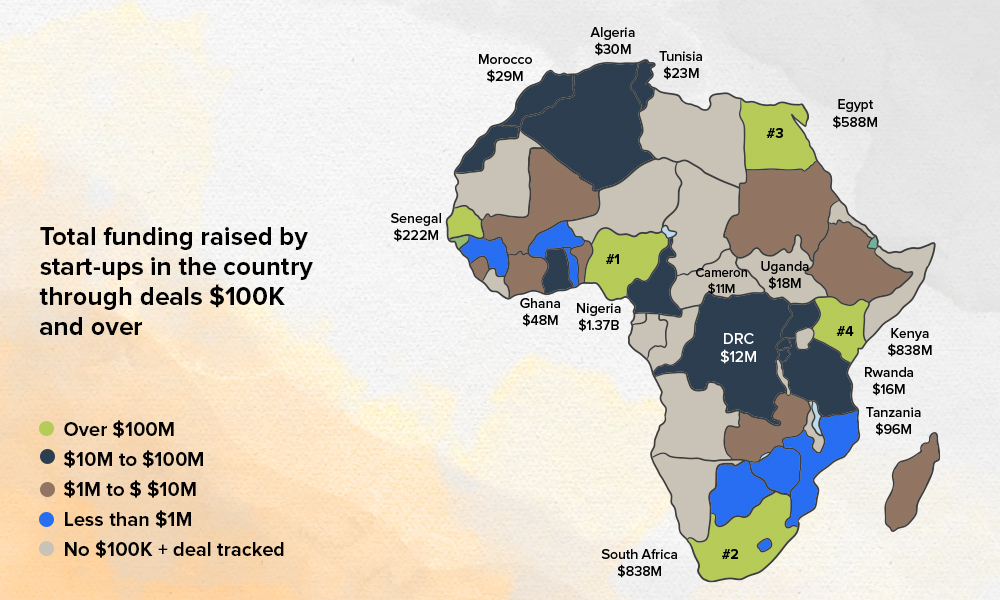 One of the sectors where Africa is garnering most investments is Fintech. Agritech, logistics & mobility, off-grid tech and health tech sectors follow behind but not closely.
The continent presents the most lucrative opportunity for fintech, DeFi, and Web3 as the economy it is predominantly mobile, with a high unbanked population [66%], large credit gap, volatile and illiquid currencies, and inefficient and expensive cross-border payment rails. As a result, Africa has embraced the decentralized nature of crypto, and several countries in Africa have seen the highest crypto adoption in the world.
Last year, payments & remittances was the largest sector at 75 deals in 2021 and saw a 32% increase from 57 deals completed in 2020. Marketplace Lending, the second largest sector had 55 deals and registered an increase of 34% YoY.

European VC's and institutional investors in the African Market
Africa has become an increasingly hot destination for Europe based startups, scaleups, venture capitalists, and more. Ikea, Maersk, Rabobank, Orange Ventures, Norrsken have entered the growing market of African Tech to expand businesses and make money.

The Ikea Foundation have created a $1 billion global platform to empower 1 billion people in Africa with distributed renewable energy.
Unilever and Global Alliance Africa have introduced an Innovation Exchange Challenge and are calling on innovators to submit their out-of-the-box ideas and business models with the potential to reshape how plastic is used in online retail. Successful applicants will receive up to £25 000 in seed funding and work alongside the multinational consumer goods company to develop their solution.
More than half of Rabobank Partnerships' equity portfolio is invested in Sub-Saharan Africa through Arise. In 2017, Rabo Partnerships, Norfund, NorFinance and FMO agreed to invest into African financial institutions via this joint venture to contribute to the economic growth and prosperity of Sub-Saharan Africa.
Bolt, a mobility company based in Estonia and a competitor of Uber has also opened operations in seven Africa markets, including Kenya, South Africa, Uganda, Ghana and Nigeria.

"We are looking forward to partnering with IFC to further support entrepreneurship, empower women and increase access to affordable mobility services in Africa. Together with the investment from the European Investment Bank last year, we are proud to have sizable and strategically important institutions backing us and recognising the strategic value Bolt is providing to emerging economies," comments Bolt CEO and Founder Markus Villig.
To ease investment access into the African market, global investment firm Partech has also launched a program called 'Chapter54' – the first accelerator program to help European scaleups successfully enter the African market. The program will be run by Partech Shaker, the investment firm's innovation branch, with backing from German promotional bank KfW on behalf of the German Federal Ministry for Economic Cooperation and Development BMZ.
Wakandi Group AS is a Norwegian company which started with a mission of improving the way money is handled, both for domestic and international remittances. Started in the year 2018, Wakandi has been working locally in the African continent to touch the lives of millions of people with its product called 'Credit Association Management System' (CAMS). CAMS is an innovative digital system to enable savings and loans services for informal financial groups (IFGs). IFGs, popularly called SACCOS in Tanzania.