In 1990's, the participants of the real estate industry couldn't fathom that internet could bring this much transformation. Internet redefined how information is stored, shared and passed. Even today, internet is making great impact in not only in real estate industry but how we think, communicate and live. Two decades ago, it was internet which was the emerging technology bringing change across industries, now it is blockchain. The distributed ledger technology aka blockchain is set to redefine how we transact, store and distribute data as well as bring more transparency in operations.
Let us discuss, what are the roadblocks of the real estate industry and how blockchain as a technology can help the industry to remove those blocks and help the industry grow in times to come.
Roadblock A: Property search process
As of now, the real estate owners, middleman, buyers as well as tenants search for property across multiple platforms. They search for property based on location, rental rates, capital value or property features. Due to lack of standardized process, all this information might not be available at one platform. As a result, there is delay in decision-making process and lack of trust on the quality of information available.
Blockchain solution: A blockchain based platform is going to be distributed across the network and will allow land owners to have more control over the data. The information will be available at one place with clear details and would establish more reliability in the minds of property investors, tenants and buyers. Platforms like rentberry, propy have already started to ship real estate listings to blockchain and managed to sell a few properties to overseas buyers.
Roadblock B: Time consuming documentation
A significant amount of time is spent in the real estate industry on documentation. Predominantly the industry uses physical documents for proof of identity, ownership of the property, income tax proofs etc. All these documents are manually verified which elongates the process as well as increases the administrative cost. Moreover, if the buyer is taking a loan to buy the property, the documentation process increases many folds thereby increasing the overall time and cost in transfer of the property.
Blockchain solution: On a blockchain platform, the above-mentioned documents can be stored. On a blockchain platform, the above-mentioned documents can be stored. KYC process can be done quickly through digital identity stored on blockchain. Also, activities like underwriting, financial evaluation, mortgage documentation proves to be costly in the traditional real estate market. All these transaction cost can easily be mitigated on the real estate platform.
Roadblock C: Non-availability of real-time data
With no centralized real estate data management platform, real estate data is scattered across platforms. Moreover, these platforms update data manually leading to data redundancy, duplicate records, no interoperability and lack of transparency.
Blockchain solution: The distributed ledger technology can put together the information at one place. This common platform will be accessible to all participants of the real estate industry leading to enhanced data quality. Moreover, data can be updated in real-time which further leads to quick property buying/selling decision making. Ubiquity, a software-as-a-service platform allows real estate market participants along with municipalities to store and track real-time property data via blockchain ledger.
Roadblock D: Lack of transparency
Currently, lack of transparency is a major roadblock in the real estate business. There are always concerns related to the legitimacy of the mortgage and title records, value of the property as well as tax and administrative fee. It is estimated that about $1 billion is spent on annual basis to resolve title frauds in real estate.
Blockchain solution: A blockchain based platform will have the information like the property history, its location and title information. As blockchain is an immutable and encrypted technology, buyers as well as banks can rely on information stored on blockchain. Moreover, the data is stored and altered post peer consensus is achieved which makes it difficult to commit fraud. Lantmäteriet is Swedish government's initiative for land registry. The government is developing an effective and legally secure division for investors in real estate. Also, Lantmäteriet is going to keep track of all the property related information like, the owners, tenants, rentals as well as mortgages taken to buy property.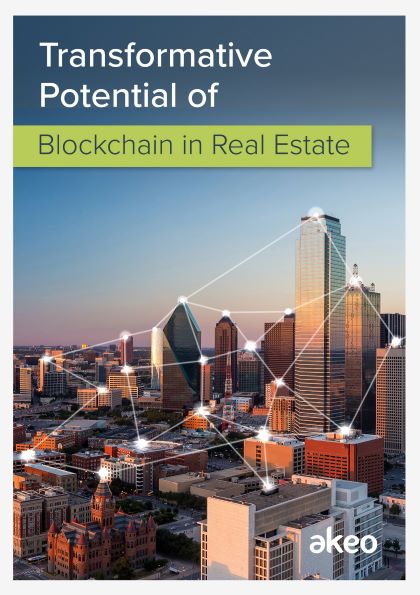 Blockchain has already started to disrupt real estate by enabling secure transactions and tokenizing properties for the ease of investment globally. Key market players are already aware of its potential and many others are exploring its use cases.
Curious about what changes have been brought by the blockchain technology and how the real estate industry has been re-shaped?