Wakandi was founded in 2018 to improve the way money, and money transfers are handled in Africa. The project began its journey as an idea for a high-end payment system to provide faster, cheaper, and more secure payments with distributed ledger technology (DLT).
After more than 3 years of constant efforts, Wakandi is touching the lives of millions of people with the Credit Association Management System (CAMS) – an innovative digital system that is changing the way informal financial groups (IFGs) operate.
The story of Wakandi
How did Akeo help Wakandi in their journey?
Akeo, as the technology partner, helped Wakandi develop the concept and the associated infrastructure. It was an advanced solution based on Hyperledger Fabric. The vision for the infrastructure was to connect multiple parties such as banks, mobile network operators, and startups to create a seamless network to share data and transfer value.
Akeo also developed several use-case applications based on the infrastructure and the technical documentation to enable a smooth onboarding process. The documentation can help to understand how the infrastructure functions, and how an organization can use it to build better financial services.
Wakandi was quick to realize the challenge that the African economy is heavily cash-driven. There was a need for a digital solution to enable IFGs to use the power of digital money and technology.
In collaboration with Akeo, Wakandi built CAMS, a digital solution that these groups can use to deposit their contributions, obtain loans, and transfer money with the help of mobile devices. It also includes many admin-related functionalities such as adding or removing members, adding products, managing loan requests, and more. The system is built on Wakandi's DLT-based infrastructure to offer better security to the users.
Wakandi has worked closely with local savings groups to build a solution that can accurately solve their problems. They have also conducted surveys to analyze challenges and opportunities in the market effectively.
Wakandi – touching the lives of millions in Africa
Wakandi has successfully launched various pilot projects in Tanzania and South Africa. They have partnered with many IFGs and mobile network operators to promote digitization in the informal sector. Work is also ongoing in The Gambia and Kenya, and they are aiming to explore even more countries for newer opportunities with CAMS.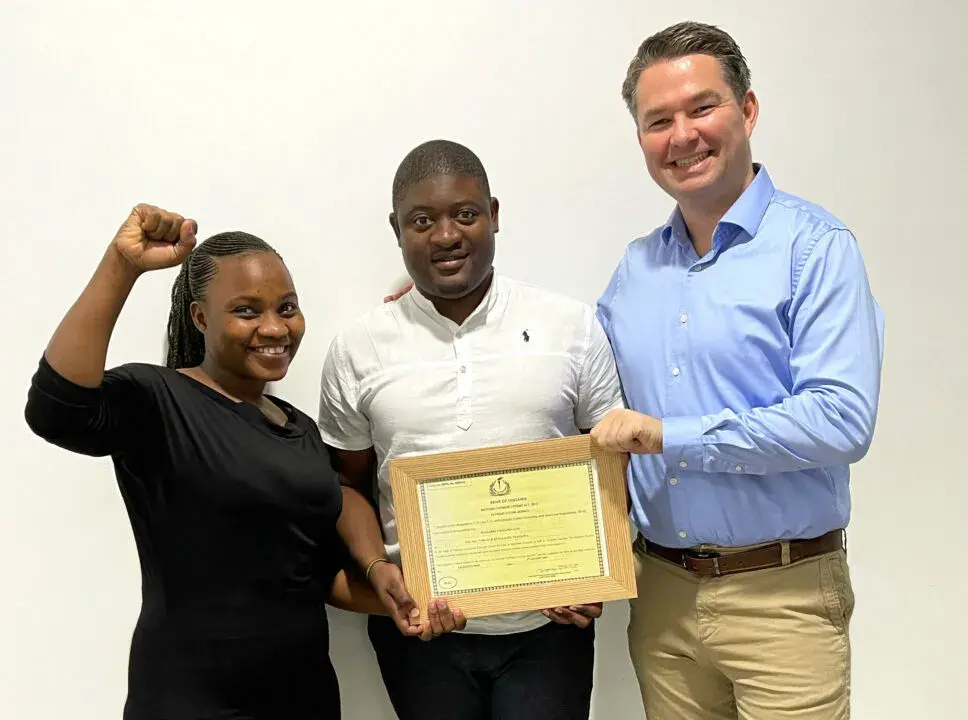 Wakandi Co-Founder, Espen Kvelland (right) and KAM, Rahma Amani, receiving the PSP License in Tanzania
Wakandi has also obtained a Payment Service Provider License from the Bank of Tanzania (BoT). The PSP license places Wakandi together with a few companies that operate the payment space in Tanzania. Now, they are one step away from launching their system with about 150 000 users already.
Launching CAMS is their effort to digitize manual processes and contribute towards a more inclusive and sustainable society. As they say, "While the informal economy may not eliminate completely, we continue building a society ready for the future. It will not only help unlock the informal economy's massive potential but also move millions of people towards formal transformation."