Things move fast in this technology-driven world. Talk about emerging technology trends – blockchain, artificial intelligence (AI), the internet of things (IoT), virtual reality (VR) – everything is changing quicker than ever. Every day is a new day in technology with the latest upgrades, version 2.0s, new adoptions, and whatnot.
How do you stay updated with technology trends? As new trends emerge every day, keeping on top of them can be tricky. Without timely updates and the latest insights, it can be hard for your business to stay current on your existing knowledge base.
Staying on top of emerging technology trends disrupting your industry can be crucial for your business. Read on to learn some simple yet effective ways to build up your knowledge base and keep up with technology innovations shaping your business.
#1 Google News and Trends
Unsurprisingly, many business owners and innovation teams use Google to keep up with technology. Using Google News and Google Trends is a great way to keep up with trends and find fresh content related to emerging technology.
Google News – news.google.com
Google News is a news aggregator service that offers comprehensive and up-to-date news from multiple sources worldwide. It has a 'technology' filter to help you get access to technology-related news articles. You can also save your interests by clicking the 'Follow' button.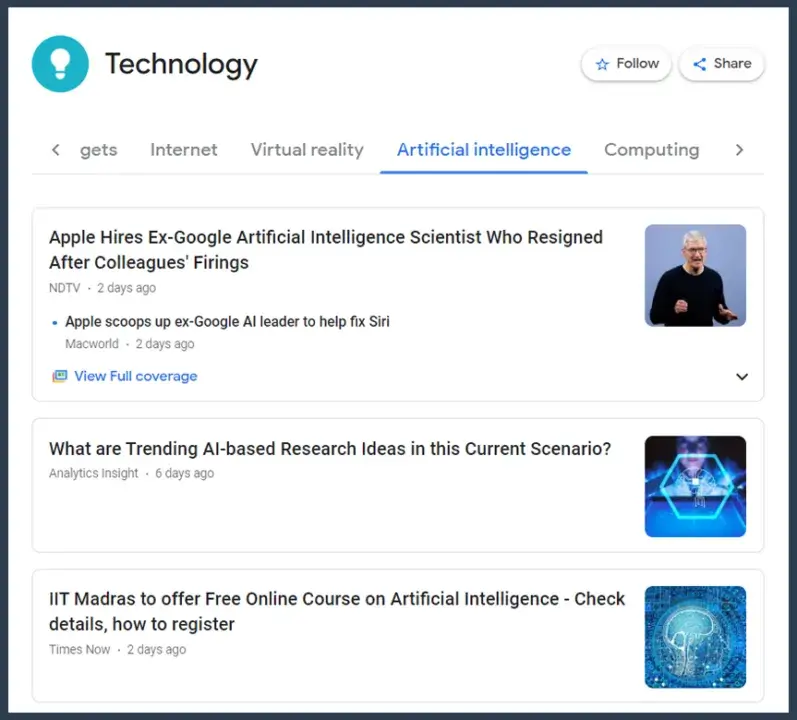 Google Trends – trends.google.com
Google Trends is a great way to keep an eye on the latest emerging technology trends. Just visit the link, type the search term, and Google presents you the trend graph with related topics and queries. Below is an example of how you can check the latest trends in emerging technology.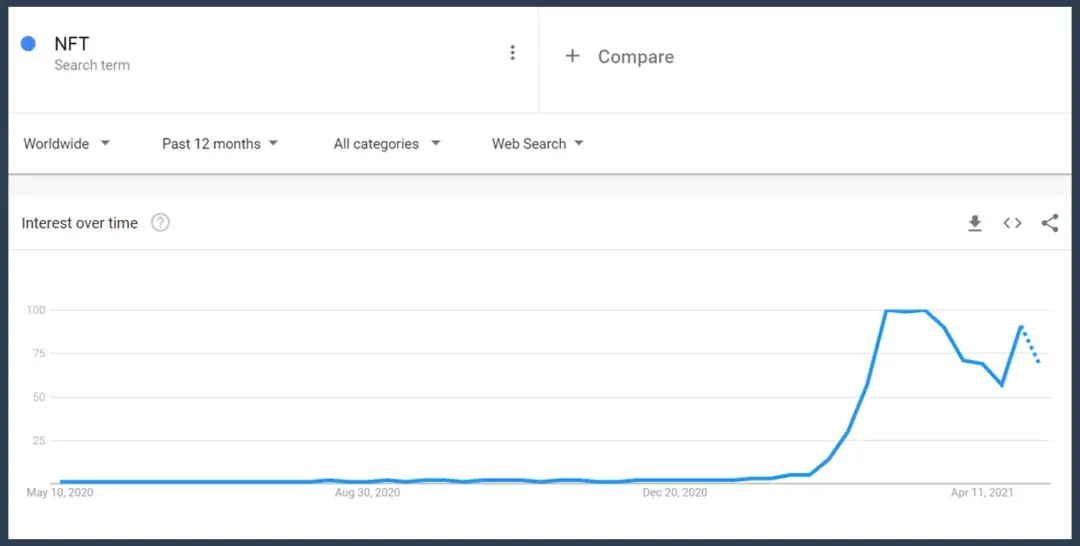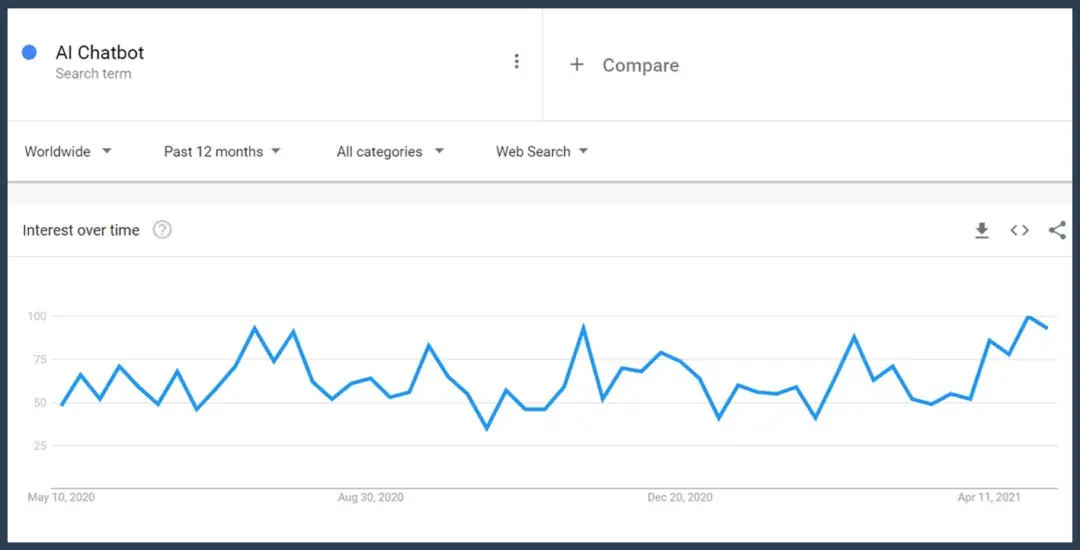 #2 Read tech websites
There are tonnes of websites that post daily content on emerging technology. They can be an asset when it comes to keeping up with the latest trends. There is no shortage of such resources, and a daily visit or newsletter subscription can go a long way. However, it could be overwhelming for many and create more noise than give relevant information.
It can be a good idea to find a few websites that you can always look up to find information relevant to your industry. For instance, if your business is into blockchain technology, cryptocurrencies, and stablecoins, you can check out –
More popular technology-related portals for comprehensive updates on emerging technology –
#3 Encourage brainstorming and team discussion
Turn to your team members to stay updated with technology. They are the ones constantly involved in reading, understanding, and implementing technologies into real-life solutions. Encouraging brainstorming and team discussions can help you build a learning environment in your organization. It can motivate your team members to keep up with the latest emerging technology trends and bring new ideas to the table.
Deciding on relevant technology and applying it to a working application can be challenging for any startup. It requires a professional approach, concrete technical strategy, and vision. Without these, your startup might fail to drive innovation and accomplish business goals. 

See how we helped Switchr, a solar power producer, drive business value and navigate the technological landscape.
#4 Monitor social media 
Social media platforms can be a great time killer. But used wisely, they can be your customized dashboard for the latest updates on emerging technology. Platforms like Twitter and Reddit can help you stay updated with technology trends.
Twitter – twitter.com
Twitter is a great way to keep a tab on the latest happenings. Most tech giants and startups are on Twitter, giving daily updates related to your industry. Follow the right hashtags on Twitter to narrow down your research and get relevant news and articles. Here are some useful hashtags you can follow on Twitter –
#Blockchain #DLT #AI #VR #IoT #MachineLearning #DigitalTransformation #Crypto #Robotics
Pro tip: Save your searches on Twitter, so you don't have to type the words every time you look for the updates. To do that –
Search the relevant hashtag.
On the result page, click on the menu icon next to the search box.
Tap on 'save this search.'
Next time, just click on the search box, and your saved searches will appear there.
Reddit – reddit.com
Reddit is a network of communities based on people's interests. It is home to thousands of professional developers, engineers, entrepreneurs, and technology enthusiasts. Using Reddit can help you stay abreast with emerging technology trends and give in-depth knowledge of working with that technology.
On Reddit, you can join tons of communities and engage with user posts. You need to input the search term and find the right community to join (shown below). You can also collaborate with other users to share your ideas and thoughts.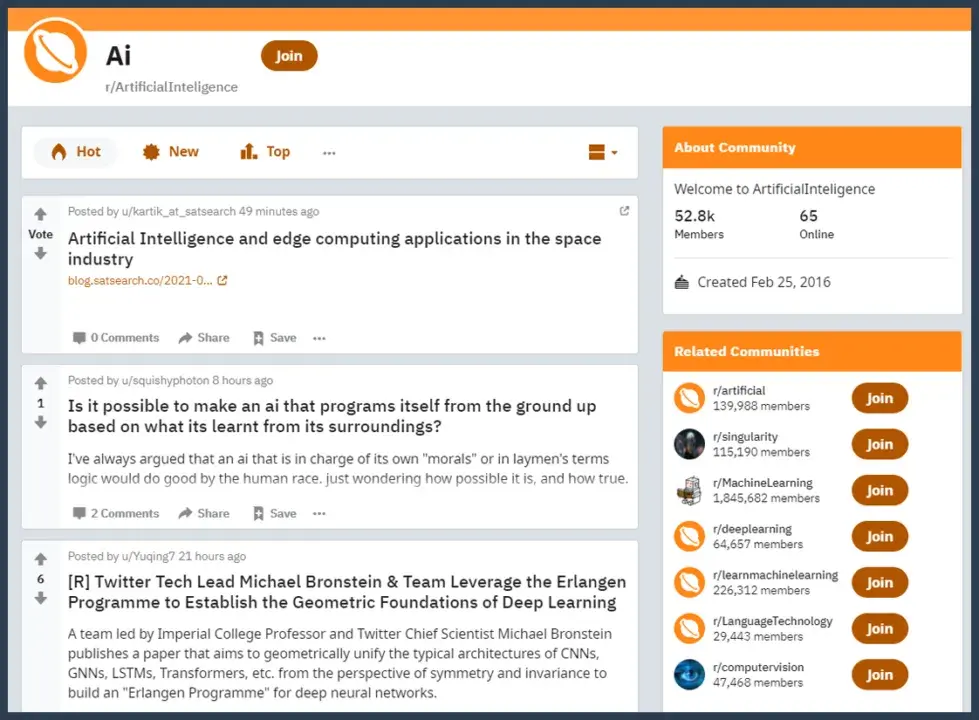 Disrupt or be disrupted
In the world of technology, be open to changes or get ready to be replaced! Constantly changing technologies have dramatically altered our business world. Staying up to date with new technology trends is crucial for any business to drive innovation and remain competitive. Implement these ideas and make innovation a habit in your organization. Lead the way to new business opportunities.