Adress, a Norway-based FinTech startup came to Akeo to build their prototype. Akeo under one of its specialized services Akeo Tech-Start, helps startups to build to transform their innovative ideas to reality. Being the technical partner, Akeo developed a prototype to showcase how the platform will connect both buyers and sellers and facilitate the transactions. The platform was developed using blockchain technology to conduct the transactions between parties through smart contracts.

With the platform, Adress wants to offer:
Home equity to home-buyers and homeowners by purchasing up to 10% of the home value in exchange for a share in the appreciation of the value of the home when it is sold (shared appreciation model)
Scalable investment product with residential real estate exposure for professional investors
Seamless customer onboarding
Automated deal analytics
Adress shares their experience of Akeo Tech-Start
In an interview with the Project Manager, Sofie Stuen Bennia, the CEO of Adress, Nedim Mavric shares his experience of working with Akeo.
How did you discover that there was a problem/challenge in the real-estate industry that you wanted to solve?
The proliferation of technology in the real estate space has been slower than in other industries, but in recent years the traditionally analog industry has started to embrace digital technologies. There seemed to be a lack of innovative financing solutions. We started exploring different concepts and then decided on a mission – "a digital real estate company which focuses on investment solutions." This is how the journey began.
How did your tech-help selection end at Akeo?
I had heard about Akeo via acquaintances; the company's Founder, Espen Kvelland is a well-known name in the blockchain development arena. When he talked so enthusiastically about blockchain, I decided to use the technology and Akeo seemed to be just the right place.

How was your experience in the follow-up during the early phase of development?
The project manager, Sofie Stuen Bennia is very organized and she quickly understood what we wanted.
What's the one thing that exceeded your expectations?
One open discussion at the Akeo Office offered a lot of value. They brought fresh and valuable insights in connection with the design of the product. The entire team is very agile and delivered exactly what we wanted.
What would you say to an acquaintance (business partner) who asked you about Akeo Tech-Start?
Without a doubt, I would recommend Akeo Tech-Start to the budding start-up businesses.
How would you describe the end product you received from Akeo Tech-Start?
I was well impressed as we received a working prototype that can actually perform test transactions on blockchain and that too in budget. Many were stunned that we not only got the technical help but the team had delivered the prototype for 100,000kr.
To what extent would you say the end product gave your start-up value in relation to the price agreed?
I would say that we received 100% value for the money invested!
How did you experience the delivery in terms of time in relation to your expectations?
The team performed through User Acceptance Testing which was beneficial for my business. We did get a little delayed, however, Akeo delivered exactly what we wanted!
After receiving the prototype, our job was to test the product. During our journey at Akeo, we discovered that the problem we were trying to solve might not have been so big. The solution seemed like a complementary product suitable in an existing set-up. Moreover, it would take time to roll out the solution.
With in-depth research we found out that the biggest problem is rather equity downpayment for home purchase, especially for young people. Later we came up with the shared appreciation model that we are working on now. This also solves one of the UN's sustainable goals i.e. affordable housing.
"Attempts to secure tokenization have so far not taken off completely, although many are working on the case. The blockchain-based tokenization of real estate will hardly take off soon, however we believe in it in the long run. We believe in blockchain as a disruptive technology and when it becomes stable and approved by the regulatory authorities, it will most likely firstly be used for back office administrative tasks in investment management. Here we plan to be in pole position when that time comes."

Nedim Mavric
Co-founder and CEO, Adress

Adress is now in development of the platform based on the feedback received from the prototype. The startup's vision is to enable affordable homeownership for a sustainable world.
---
Curious about how blockchain has transformed real-estate?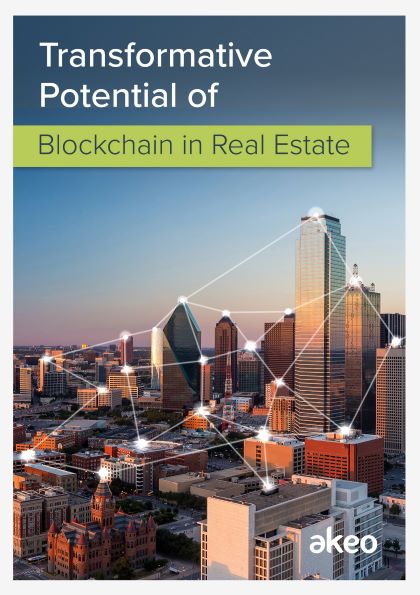 Blockchain has already started to disrupt the industry making transactions secure and tokenizing properties for the ease of buying and selling globally. Key market players are aware of its potential and many others are exploring its use cases.

Know more about what changes have been brought by the blockchain technology and how the real-estate industry has been re-shaped via our ebook.